Lopar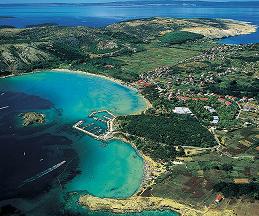 If you want to spend your days at beautiful beaches, in a wonderful environment full of diverse and magnificent plants, this is the right place for you.
Lopar is then your choice if you start on the island of Rab.
A lot of different plants provide you with amazing fragrances which are being dispersed by air. A dash of breeze will be more than pleasant. If you are one of those irreparable romantics, then beaches, the Sun, the warm sea, a pleasant breeze and of course, the loved person will be the only things you need in your life. Here, it is never too hot. If we look at its temperature, the island of Rab, and even Lopar itself, is one of the warmest places in Croatia, however with a different climate. The humidity of air is not considerable so it is more pleasant to live. It is always as you would like it to be.
Beaches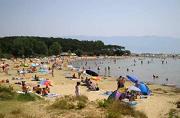 As we have already mentioned, Lopar is rich with beautiful sandy and stony beaches. All together, there are 22 coves for you, among them there are 3 nudist beaches for those a bit braver (Ciganka, Sahara, Stolac). Along with this, there are plenty little bays with the Mediterranean plants and the warm sea.
Also, here you can find the biggest and the most known beach on the island of Rab – "Rajska plaža".
With its length, over 1, 5 km, it is really special. If you don't find anything interesting among numerous attractions typical for beaches such as aquagan, pedalines, boats, scooters for water, parachutes, speed-boats, tennis playgrounds, soccer, basketball, table tennis…..you can freely stretch out on a deck chair and enjoy yourself in a beautiful view, wherever it has been directed...
The Legend of St. Martin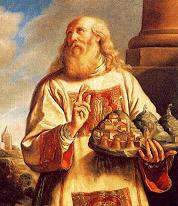 More than 17 centuries ago, a little Martin was born in Lopar. Growing up into a mature young man, he managed to train himself to become a stone-cutter. Searching for a job, he even departed to the opposite side of the Adriatic, to the coast of the Apennine Peninsula, in the nearby of today's Rimini.
Being hard-working and virtuous, soon he won the Christian Community's trust and became a deacon to the bishop living there-Gaudiencio. Being exiled because of his Christian preaching, soon he escaped to the hard accessible hill Titan and there he built a small church.
Those were the foundations on which, later on, today's city- San Marino and, with the same name, a small state arose, where still, the saint's remains have been kept.
---
Don't forget ...it will be a pleasure to be your host!