Welcome to the most beautiful place on the Island of Rab-Lopar!
Whether you are looking for comfortable "lopar apartments" for vacation with children or with friends in high season, whether you prefer a relaxed "croatia vacation" with mild climate, warm sea and fragrances of blooming vegetation in low season, or if you consider yourself as one of those who rather enjoy vacation in autumn, with cultural events, grape harvests and a number of other fruits, then you have come to the right place! VeAn - Lopar Apartments!
There are four comfortable apartments waiting for you: 3 star category, indoor space from 40 m2 to 70 m2, situated in the most ideal place, far away from any type of noise during the night, but 5-15 minutes walking distance from any type of activity. It is the ideal place for families with children and for those who appreciate a moment of the night's silence.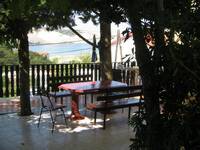 Each lopar apartment has at your disposal: a shady terrace, some even a balcony; a grill and a huge garden with a fence around it - ideal for children. You can look for a place for swimming or sun bathing among even 22 Lopar small bays with sandy or stone beaches. You can spend evening hours walking down numerous little roads, meant for walking and riding bicycle or sightseeing the rest of natural and cultural beauties of Lopar and the island of Rab.
VeAn - Lopar Apartments Air Condition - inlcuded
The apartments clean and fully equipped are waiting for you. The price of apartment also includes:
electricity, water
1x week-clean linen (it is possible more often if you wish so)
every three days-clean towels
possibility to use washing machine, by arrangement
instant-coffee-machine
final cleaning
all necessary equipment for grill
parking space
air conditioner (air condition - aircondition)
300 m2 of house plot with a fence around it, allowing your children to play freely, without being afraid.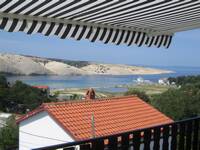 The nearest beach is only 10 min walking distance, while, on the other hand, a beautiful Paradise beach (Rajska), the second most known in Croatia, is only 5 min away by car or 20 min walking distance. Between 300-1000m distance, there are different restaurants, coffee bars, a bank, a post office, a small ambulance, a sport centre and various shops.
We invite you to get acquainted with our croatia lopar apartments with air condition shown on this web site, if you still have not been on the island of Rab. Donít miss the links of Lopar and Rab to see in what surroundings you will enjoy your stay.
If you are keen on sports and recreation, check our info sites on this topic and prepare yourself for real fun.
If we have missed something or you would just like to contact us and book an apartment, we will be glad to assist and help you in any possible way.
---
Don't forget ...it will be a pleasure to be your host!
FACEBOOK Lopar Apartments: